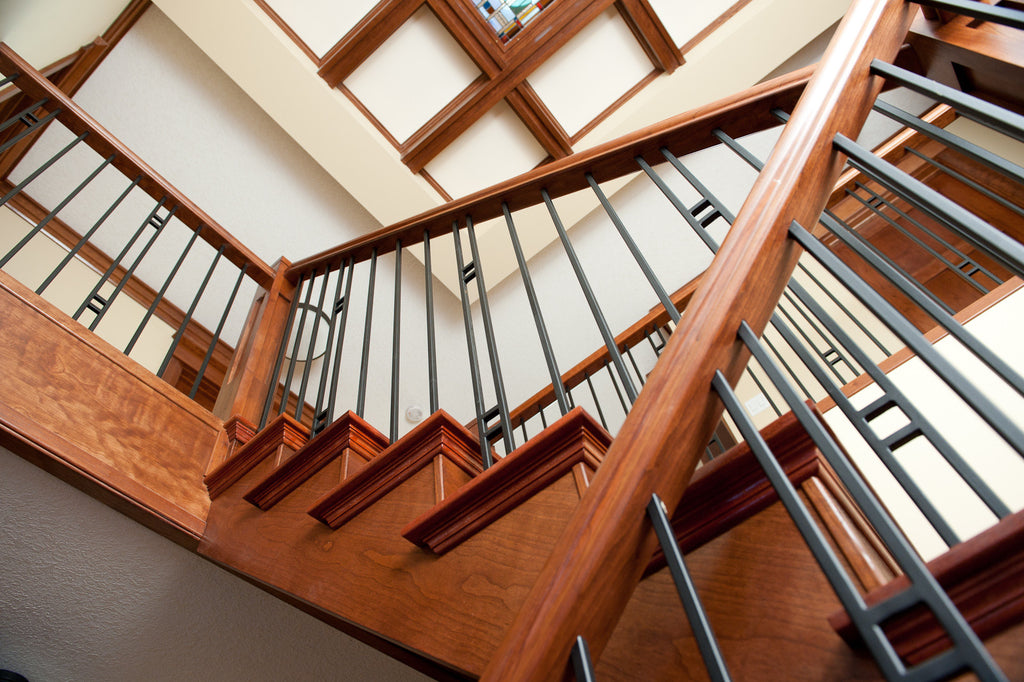 Experiencing a strong resurgence since the first Craftsman homes were built in the early 1900s, this style remains a fundamental movement in North American design. Embodying clean lines that showcase expert craftsmanship, Craftsman style draws much of its inspiration from the out-of-doors. As master stair builders, it's our pleasure to show you how you can use Craftsman's various elements or 'ingredients' to define your home's style and have your home showcase your personal taste.
A New Look at Newel Posts
As the principal feature of your Craftsman railing package, the newel post's character is an important ingredient in defining your unique style. With a variety of shapes and woods to choose from, the newel post is a great way to welcome visitors into your home.
Make it your own: 
For a traditional Craftsman look:
A simple yet elegant
Mission style newel post
is a classic fixture in the traditional Craftsman railing package. While every newel post has a cap, try adding a
boot to the base
of the newel post to add a slightly more substantial profile, while keeping within the angular Craftsman style.
For a modern Craftsman feel: One of the appeals of the Craftsman style is that the streamlined look matches the tastes of many homeowners. For a contemporary look, consider paring down the newel post's profile by avoiding the boot feature. The absence of a boot from your newel post results in a slimmer profile, and plays on the clean, angular lines of the style. A mission-style cap is a subtle yet important enhancement that will mesh pleasingly with other features throughout your home.
 This Craftsman-inspired staircase mixes traditional workmanship with a touch of fresh modernity. The newel post's clean lines and mission style cap, coupled with pewter balusters give the railing package a unique look. 
The Character of Wood
One of the key design principles of Craftsman style is the use of natural materials to enhance the feeling that your home belongs to the earth. Talking with a master craftsman is important and will give you important insight - for example, while your stairs themselves are a feat of structural engineering that require compressed vertical support and stability - you can follow your taste and intuition with your stair railing package - that is, your balusters, railing, and newel post.
Rich wood textures and amazing grain patterns come to life on this walnut hardwood stair and railing. Even the newel posts' grain pattern has been masterfully matched to flow with the rest of the wood.
Wood is often chosen for the beauty of its natural tone and grain and thus is clear coated or oil rubbed, however a growing segment of homeowners prefer to stain their wood in order to achieve their own unique colour choice. Note that a master woodworker builds stair parts so that the wood grain is minimally interrupted and flows evenly and naturally. If stain is your choice to match the rest of your woodwork, you can be confident that master quality stair parts will take stain evenly for a beautifully balanced finish.
Make it your own:
For a traditional Craftsman look: Allow the flowing grain character of hardwoods such as oak to shine through a clear coat for enduring beauty.

For a modern Craftsman feel: Subtle graining like that of maple wood has a subdued, minimalist appeal that works well with the clean lines of the contemporary Mission style.
The Right Railing Profile

One of hallmarks of the Craftsman railing is its appealingly solid shape and size. The railing profile on your Craftsman style stairs will have a pleasant feel under the hand that conveys both grace and strength and feels expertly hewn.
This craftsman style newel post anchors the hand railing system over three floors. Railings have been expertly matched to highlight the house's woodwork as art.
Make it your own:

For a traditional Craftsman look: In turn-of-the-century Craftsman construction, hand rails were usually hewn, planed and joined on site, relying on meticulous workmanship. The classic detail of our Hampton handrail echoes this timeless Craftsman approach to quality.

For a modern Craftsman feel: Try the Gibson handrail to reinforce classic Craftsman proportions while adding a refreshingly updated feel to the Craftsman lines.
The Beauty of Balusters

Choosing balusters (or spindles) to suit your style is a fun way to enhance the overall feel of your railing package! While wood is considered the more traditional accent and softens the aesthetic while strengthening the staircase visually, metal balusters of dark iron or oil-rubbed bronze reinforce the Craftsman's connections with the earth.

Make it your own:

For a traditional Craftsman look: Use classic wood balusters to echo how the style was originally developed. Since that time, metal spindles in a blank-blank-flag pattern (A-A-B pattern) has gained acceptance as another interpretation of the traditional look.
This stair railing system uses metal flag and blank balusters using a blank-blank-blank-flag (A-A-A-B) pattern, highlighting the traditional metal craftsman look and echoing the classic wood stove in the background.
For a modern Craftsman feel: Use metal flag-baluster patterns such as A-B-A, A-A, and A-A-A groupings to show a more modern twist on classic Craftsman style. For a different modern feel, circular stainless steel spindles bring a unique contemporary note to warm-toned mixed woods.
This craftsman stair railing uses blank-flag-blank (A-B-A) patterning for its iron-look balusters which creates a repeating motif and lending a feeling of movement to the stair package.
Square pewter balusters are grouped in trios to bring a touch of fresh modernity and openness to the traditional feel of the stair railing.
The Importance of Wood Finishes
Choosing the finish of your staircase is a decision that many contemplate seriously. There are two schools of thought as to how to treat your wood in the Craftsman style: to stain or leave wood clear coated. Depending on your preference and other style choices in your home, you may choose to have natural wood tones speak prominently through clear coating or temper your stair railing colour to match your home's tone through staining of your hardwoods.
The dark stain on the modern newel post adds a high-contrast of-the-moment feel to this classic Craftsman look.
Make it your own:

For a traditional Craftsman look: Wood that has been oil-rubbed or clear-coated, allowing the natural color and grain to shine through is the standard, elegant Craftsman style.

For a modern Craftsman feel: Stained wood makes a style statement or matches existing woodwork in the home; a modern newel post and fixtures will showcase a unique and modern look.
Craftsman style homes are beautiful in their refined simplicity, clean lines and emphasis on natural beauty. We hope that this design style primer has helped you better understand the direction you'll take your stair railing design plans and capture your taste for the traditional or modern.