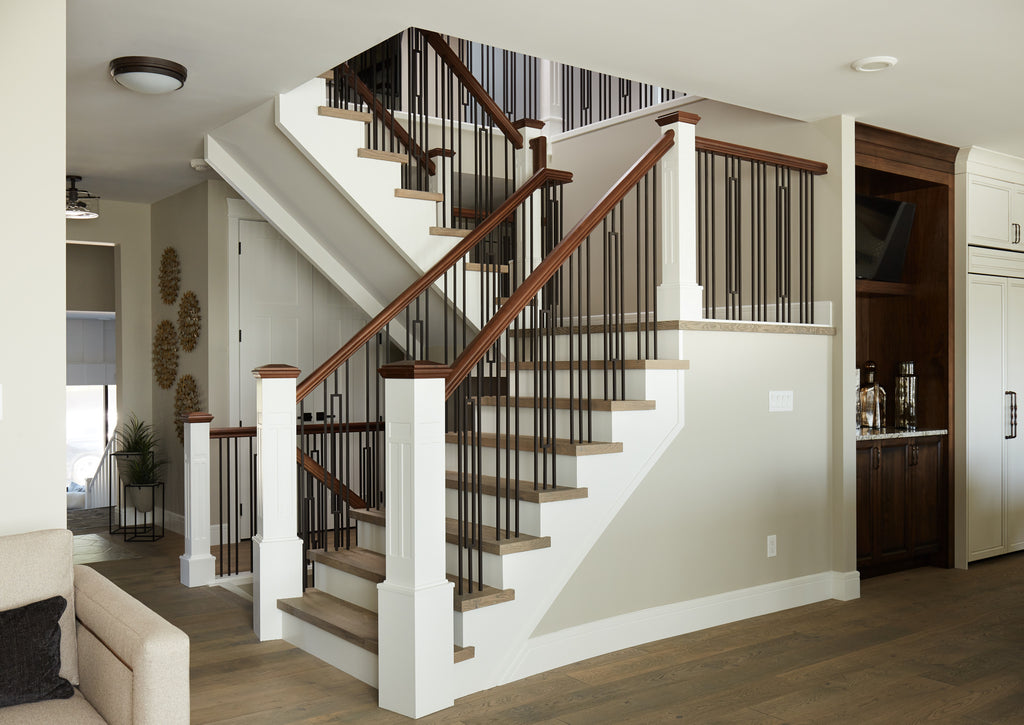 Developing a strong sense of style for your home is equal parts art and science, and your stair railing is no exception. As master stair builders, we've guided hundreds of homeowners and designers, clarifying the design ingredients that inspire them. 
In this primer, we'll cover some basic ingredients that define stair railings, then look at three (of many) design styles.  Finally, we'll walk through images together, using the key terms to point out elements in each style to help you become comfortable with the look and language of each.  We guarantee you'll end our primer eager to discuss your own tastes and preferences with family, friends and designers.
Basic Railing Ingredients
Here are the four basic ingredients you should consider when designing your stair railing:
Proportion: Combinations of basic shapes influence the overall look and feel of your stair railing and impact everything from the newel post size to balusters used.
Continuity:  Repeating elements add visual interest and complexity to the overall design; repetition can make a strong or subtle statement.
Patterning: Balusters are an ideal way to introduce patterns for visual impact and flow.
Texture: Some design styles play on the contrast between wood, metals and stone, whereas others styles make use of wood textures.
Craftsman Stair Style
A reflection of American design ideals, the Craftsman style favors a mix of coordinating woods and metals that are chosen to emphasize simplicity, expert workmanship, and the home's harmony with nature.
Craftsman Newel Posts - With cleanly rectangular proportions, the classic mission-style newel post reinforces simplicity through recessed panels and simple, clean lines. This results in an understated yet refined newel post profile that anchors the stair railing.
Warm rich natural colors showcase the beauty of wood grain patterns.  Much care is taken by expert craftsmen to match the grains and tones for a beautiful finished product. Oil-rubbed metal balusters complement the wood grain for an overall feel of warmth and connection to nature.
Craftsman Balusters - With clean lines and the pleasing contrast of wood and warm iron metals, the Craftsman style is reinforced by patterning the order of the balusters. A popular pattern is that of flags and blanks, which uses the elegant rectangular proportions found in Craftsman homes and fixtures to echo clean, elegant lines. More complex patterning styles allow the eye to rest on the panel as a whole, whereas shorter patterns convey a 'repeating motif' feeling to the railing.
Craftsman's use of iron-look metals for balusters is ideal to showcase the style's emphasis on meticulous joinery. Note the absence of ornamentation in each element and masterful square mortise technique which demonstrates beautiful and precise workmanship.
Craftsman Railing - While different railing profiles can change the overall look of your railing, many people enjoy the engaging feel of our classically styled Hampton stair railing. For a more modern feel, our Gibson stair rail offers a sleeker and more unique profile, with proportions that echo the overall Mission feel of the Craftsman style.
When viewing the 'big picture' it's easy to see the quintessential Craftsman style, which highlights the natural wood grain and subtly emphasizes the geometry of the flag and blank spindles.  This beautiful railing package continues the harmony of the wood and metal in window and door (background) and exposed beams. Wood tones and graining are carefully matched to enhance the overall look.
Modern Stair Style
Modern design focuses on bright spaciousness with ample windows, open floor plans and polished metal materials.  Core principles of the style include:
use of simple asymmetrical geometry,
lots of natural light
emphasis on low profile fixtures and fasteners.
Living spaces remain visually unencumbered by dividing walls.
Modern Newel Posts - With minimalist newel posts shapes or mitred rail returns that continue directly into the floor, materials are a key component in the finished railing package.  Material combinations in modern style are often high-contrast or low-contrast neutrals and are frequently accented by light metals like stainless steel and brushed nickel.
Simple handrail profiles are used here to run continuously from handrail to floor, suggesting a newel post with its continuous, clean lines. Note the use of horizontal metal balusters that add a unique pattern and continuity to the staircase. Light wood contributes to the feeling of spaciousness.
Modern Balusters - A feeling of airy refinement contributes to the open tone. Often, vertical or horizontal cable balusters are a popular choice in place of traditional wood or ornate metals; contrasting colors and textured metals are often seen and the overall geometry of the railing package aims to create  a strong visual impact. A recent trend is to use straight or curved glass panels with  stainless steel connectors to increase openness and infuse an industrial flavour to the stair railing.
Visually breathtaking, the white oak cantilever stair has a minimalist overall profile.  The use of light colored stainless steel rod-balusters contribute to the feeling of space and draw the eye both upward and to the stacked stone feature wall that provides visual punch to the stair.

Modern Railing - Although simplistic in profile, handrails are features of great interest in the modern style and their stark elegance captures visitor attention. The angular railing is the quintessential element for many modern staircases. Pushing the boundaries between baluster and railing, asymmetrical shapes of metal, glass or wood can play with our sense of proportion and feelings of spaciousness.
Stainless steel posts are used vertically to provide a unifying element between floors.  In the background, light neutrals dominate the palette while the main floor provides an overall feeling of spaciousness. Note the mitered post return for a minimalistic look, coupled with glass and our Gibson rail.
Traditional Stair Style
With classic symmetrical proportions and warm wood and metals, the ornate detail of the traditional style evokes feelings of class and time honoured style throughout the space.  The home's welcoming feel emerges through the use of balanced proportions, subtle continuity and refined play of textures between metal and wood.
Traditional Newel Posts - Elegantly carved and richly stained, the traditional newel post evokes a welcoming feel to all who enter the home.  With an ornate but sturdy profile that makes use of elaborate profiles, trim, and carved work,  integration of Victorian ornamentation creates a tone of elegance and warmth.  
A two-story double curve made from jatoba is shown here with a traditional rich-toned railing blended with classic iron and wood spindles. In the forefront, a beautiful newel post with ornamentation gives a stately profile. The knuckled balusters in an elegant pattern contribute to a flowing panel effect.  Finally, the railing's soaring double curve evokes feelings of balance and harmony that are hallmarks of the traditional style.
Traditional Balusters - Traditional style is known for its semi-ornate metal balusters, traditional wooden spindles - or both - juxtaposed in a balanced pattern.
Iron knuckles on dark metal balusters in a single/double pattern are interspersed with matching wood spindles. Note in the background, neutral textiles complement the mid-tones in wall color, also hallmarks of the traditional style.
Traditional Railing - Traditional railings use elegantly sculpted wood rich in tone to convey the style.  Sometimes ornately designed, the railing works in harmony with the balusters and newel post to convey a complete and elegant look.
Space constraints change the profile of the stairs between floors, but even so, this railing package shows how the traditional style evokes feelings of balance and order.  Elements such as the newel, the balusters and the wood tone and texture remain continuous throughout.
Creating the staircase of your dreams is much easier when you can identify and define your style preferences. By following these design principles, you have the opportunity to shape your stair railing design to suit your specific tastes.